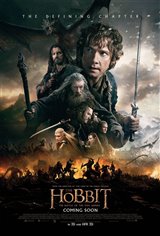 The Hobbit: The Battle of the Five Armies 3D
4.44/5
Based on 40 votes and 16 reviews.
Please rate between 1 to 5 stars
Showing 1-10 of 16 reviews
March 16, 2015
I didn't like the way that the filmmaker decided to shoot 3 movies and then keep us all waiting until they decided to release them. This one comes over a year after the first was released and is great, that is if you like interminable battle sequences. Basically the first two films were better and only needed the death of Smaug, a shorter section about the hoardes descending to steal Thorin's gold, and then back to the shire to finish up. A classic example of studios trying to make money by appealing to those of us who go for blood and guts! A big disappointment for me I'm afraid after too long a wait.
February 8, 2015
Epic finale. Wayyyy better than the first hobbit movie and slightly better than the second!
January 28, 2015
Awesome way to end the series. Loved it and would highly recommend it.
January 18, 2015
An absolutely fabulous movie. Loved the whole series and this is one is no exception. Anyone who rates this movie less than 4 stars are kids playing games with the their mommies phones and I pads! Don't listen to them or take them seriously. It annoys me that these kids are even allowed on here.
January 2, 2015
BEST. MOVIE. EVER
January 2, 2015
Expertly sets up the fourth Hobbit film.
January 1, 2015
Excellent movie.....really enjoyed it from beginning to end.
December 31, 2014
My mon likes it but i hate it and i dont know why am watching it.I think am in serious trouble right now?!?!?!?!!?!?!?!?!?!!?!?!?!?!?!!
December 31, 2014
Blah bllah blah
December 31, 2014
What a fitting closure to a fantastic series of films! This is the best movie in the hobbit series and anyone will love and enjoy it whether they have seen the others or not. I would fully recommend this to anyone.