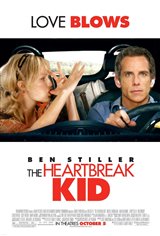 2.72/5
Based on 223 votes and 42 reviews.
Please rate between 1 to 5 stars
Showing 1-10 of 42 reviews
July 7, 2008
I loved the movie. My friend suggested that I watch it because it related to us!
February 12, 2008
Everyone has been in situation... Maybe not in marriage but, when dating a crazy girl!!! The movie was hype for it's relatability, if you're Pops is like mine. But!!!! Don't stop watching the movie until the very last minute, because for every playa out there the final act is vindication at it's sweetest!!!!
January 15, 2008
first 20 minutes were a riot, after that it's liek the writers went into rehab.. probably one of th eowrt stiller movies to date.
December 22, 2007
Oh man, was this funny! An absolute gem!
November 4, 2007
it was ok but better to wait for DVDand rent it.
October 24, 2007
I thought this movie was good, it was funny in that it showed that you really have to get to know someone before you get married and even then things may not alwasy be what you expect. I liked it, it wasnt the best comedy of the year but it was entertaining enough. It would have been a good rental.
October 23, 2007
This movie sucked.
October 21, 2007
i love ben stiller, but even that was not enough to make me recommend this poor plotted, cheap humour, vilely suggestive film...what was he thinking?
October 20, 2007
the first half was funny but after that it was lame and the jokes were repetitive. my boyfriend like it so its a bit more of a guy movie. as a girl, i thought it showed the patheticness of guys and how they are never satisfied with something good.
October 20, 2007
If you have a choice between watching this film or staring into a blank wall, choose the later.