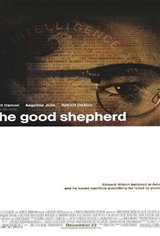 3.21/5
Based on 3386 votes and 99 reviews.
Please rate between 1 to 5 stars
Showing 31-40 of 99 reviews
January 8, 2007
Hmmm, I am not sure what to say. The cast seemed great, the story seemed like it would be great. I don't know. I'm not sure if I just didn't understand it, or if the writing and directing were bad. I found it slow and long. Maybe it was aimed for a higher age group. Although a lot of people left before it was over. I stayed and watched it all hoping the ending would put it all together, but nope!
January 7, 2007
Good movie and a great cast, but The Bourne Identity it is not. It has a really good story line.
January 7, 2007
I knew this movie was going to be long and slow from the very beginning when Matt Damon is walking back and forth from here to there in a slow pace with a blank face! honestly i expected so much more from this movie. I am already not a fan of long movies, but after seeing DEPARTED which kept me on the edge of my seat, i thought i`d give this a try. Usually i like complicated movies that you have to watch twice to figure out what happened, but in this case you only think "WHO CARES REALLY?" there`s nothing there to figure out that`s worth knowing! I would wait till it`s on rental just so you can say you saw it!
January 7, 2007
Very slow moving & confusing. Al Pacino keeps everyone in the dark.
January 7, 2007
Great actors! I left confused and disappointed. I get the story overall, but I think they could have done a MUCH BETTER job illustrating their points. Maybe it was the writing...this film will definitely keep your interest, but unfortunately there wasn`t much of a payoff. Maybe it would make more sense the second time around.
January 6, 2007
slow, long, boring, yawwwwnnnnnn
January 6, 2007
Confusing, No climax...good actors...but matt damons face never even changed expressions..
January 6, 2007
This movie is only good for older ppl.. But this is one of the worst movies I`ve ever seen in my life! So boring because all they do is talk .. Story line is very slow as well...takes forever to get to a point
January 6, 2007
THIS IS THE SLOWEST MOVIE EVER AND YOU CANT EVEN UNDERSTAND WHAT IS HAPPENING. YOU SHOULDN`T EVEN GO IF THEY PAY YOU IT IS DA WERST MOVIE TO EVER BE MADE
January 5, 2007
if you are tired but you cant go to sleep then go your local theature and watch the good shepherd. it is soooooooooooooooooooooooooo so so so slow. i took my friends there and now im the laughing stok of my school because i went to such a crap movie. good advice, donot waist your money on this movie!