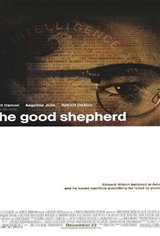 The Good Shepherd
99 Reviews
|
Write a Review
In Theaters: December 22, 2006
3.21/5
Based on 3386 votes and 99 reviews.
27.01%

15.15%

29.01%

9.12%

19.71%
Please rate between 1 to 5 stars
Showing 1-10 of 99 reviews
April 17, 2007
NOT a great movie. requires thinking. Not for you if you want to be entertained. Very disappointed. NOT all movie stars can direct. This is another example of poor writing. Who is doing what to whom in this movie? We`re not all ex-CIA here. DeNiro should stick to acting. 1*
April 2, 2007
It was long but quite good. great performances
April 2, 2007
Great movie. requires thinking not for you if you want fun and laughs
April 2, 2007
excellent movie. Matt deamon was great
April 2, 2007
clooney and blachett??? they are not in this movie .. you people just write reviews without watching movies. it was a great movie. deep dark and thought provoking
February 27, 2007
found it confusing and a bit hard to follow. I did not like.
February 13, 2007
I didn`t like at all
February 9, 2007
Boooring.
February 4, 2007
I was not impressed by this movie...at all!
January 29, 2007
Clooney and Blanchett are spectacular!