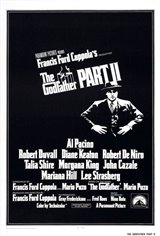 The Godfather: Part II
10 Reviews
|
Write a Review
In Theaters: December 20, 1974
4.8/5
Based on 220 votes and 10 reviews.
91.57%

3.01%

1.81%

0.60%

3.01%
Please rate between 1 to 5 stars
Showing 1-10 of 10 reviews
November 17, 2019
A true classic!
November 10, 2019
Great movie,story. But Godfather 1 was better
November 6, 2019
THE modern classic. Everything done to perfection: screenplay, casting,acting, cinematography, production values, music...WOW !. :
March 14, 2008
I Hated It
September 4, 2006
it is remarable movie. No wonder I`ve watched it more than ten times !!!!! I love the way Al Pacino and Robert De Niro act in this movie. They showed themselves as a super actor !!!
May 31, 2006
It`s the best movie ever! I wish i can born in that family, have a father like that, and brothers like that too. Al pacino, Marlin brando r my favorate ever, and no one can even come close to their successfulness ever in the world. they r the most charming man in this world and this movie is the best movie of all times!
September 4, 2004
godfather 1,2,3 are the best movies ever made
August 10, 2004
incredible....!!
February 6, 2002
Like the other 2 parts of this triology the GF2 is my most favorite movie ever. I think of it as a modern Gric tragedy: In GF1 Michael gets the power, in GF2 he commites the horrible sin of murdering his brother & in GF3 he is punished by losing his beloved doaghter. All of the GF have a sense of royalty: It is like Heggen says that the Corleone family is like the Roman Empire.
January 29, 2002
Absolutely amazing! The Best sequel I`ve ever seen! Brilliant movie!