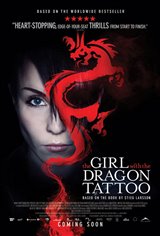 The Girl with the Dragon Tattoo (2010)
4.23/5
Based on 143 votes and 49 reviews.
Please rate between 1 to 5 stars
Showing 1-10 of 49 reviews
January 4, 2012
Just saw this earlier Swedish version after seeing the USA version in the theatre. Definitely a good movie, covers more detail than the other one, and worth the see. Enjoyed it immensely. Both versions complement each other.
February 26, 2011
Before this movie, i've never heard of Noomi Rapace...wow what an amzing actress, hopefully she will be in more films. The whole movie kept my attention from start to finish..what an excellent job by all who participated
December 15, 2010
One of the best Movies I've seen in a very long time!
November 1, 2010
I found this movie to be fascinating. I didn't think I would be able to follow the footnotes but had no problem. Now I am looking forward to seeing the next one. I believe this is a triolgy.
October 31, 2010
Spellbinding thriller. Totally kept my attention until the end.
October 30, 2010
A bit cliche at parts, tries to fit too many genres into a single movie, and at times I felt like I was watching a Davinci Code wannabe. Also, it was WAY too long.
October 30, 2010
An excellent film with strong characters, a compelling story and powerful performances. David Fincher will be hard pressed to make his version as good as this one.
July 28, 2010
Wow. What a terrific, startling, in-depth and haunting film. What an intriguing story, what a wonderful twist ending, what great characters. If I tried to think of anything bad to say about this movie, I'd either fail or have to lie through my teeth. Watching this story unfold is like listening to a symphony. This film is the harmonious marriage of a myriad of elegant little pieces. Before the movie starts, Mikael Blomkvist has been disgraced and discredited asa reporter by a big evil corporation, a story which would have made an engaging film just by itself. Instead though it serves as a backdrop to the larger story of a forty-year old crime that he investigates in the six free months he ha
July 18, 2010
amazing movie - one of the best this year!!
July 6, 2010
WOW!!. Great movie!!! I was hooked after the first 10 mins. I can't wait for the next one.