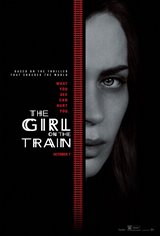 The Girl on the Train
45 Reviews
|
Write a Review
In Theaters: October 7, 2016
On DVD/Blu-ray: January 17, 2017
3.18/5
Based on 126 votes and 45 reviews.
25.81%

30.65%

4.84%

12.90%

25.81%
Please rate between 1 to 5 stars
Showing 1-10 of 45 reviews
January 21, 2017
pretty good movie
January 18, 2017
Fun, twisty thriller! Can't believe anyone wouldn't like this movie! I'm glad all the negative reviews didn't stop me from watching it. Emily Blunt plays a very convincing alcoholic.
December 7, 2016
Much better than I expected . Never read the book so had to really pay attention to what was happening. Kept me in suspense the entire time and loved how it all came together at the end. I would nominate Emily Blunt for an Oscar. Also enjoyed the scenery. Worth seeing again.
December 4, 2016
Confusing plot. Timeline is all over the place, difficult to follow. Very slow throughout the movie.
November 15, 2016
Very good followed the book very well a hell of a ride from beginning to end
November 13, 2016
I only gave it two stars because of Emily Blunt - she is a great actress. But honestly... even she couldn't save it for me. I found this movie boring and depressing. The book was much better!
November 11, 2016
It had filthy language in it and was a total waste of money.
November 6, 2016
boring!!!
November 4, 2016
Could have been great. Acting was not great. Good twist at the end. Would not recommend.
November 2, 2016
It is hard to know who to trust or who to talk to that will believe you with a story like this. Definitely can make you insecure about trusting authorities.