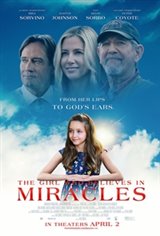 The Girl Who Believes in Miracles
17 Reviews
|
Write a Review
In Theaters: April 2, 2021
4.58/5
Based on 40 votes and 17 reviews.
89.47%

0.00%

0.00%

0.00%

10.53%
Please rate between 1 to 5 stars
Showing 1-10 of 17 reviews
May 9, 2021
Good plot, awful acting. So bad that my date and I were laughing during it
April 24, 2021
Great story line and good acting
April 23, 2021
A great family movie, or for anyone in general. Interesting and entertaining from start to finish.
April 18, 2021
Excellent movie. I enjoyed it very much.
April 17, 2021
Liked the faith in miracles which we as Christians should all have
April 17, 2021
This was a beautifully portrayed movie of a young girl's faith in the God who heals us! Jesus!
April 13, 2021
A beautiful little story to help restore faith and hope in a world which has lost its way. Wonderful to see something truly good and inspirational coming out of Hollywood.
April 13, 2021
WOW! Full of surprises with " Fabulous actors, writers and film making." Story is so worth Five Stars. Would give it seven stars if I could. For all ages of course.
April 12, 2021
This Movie is so good, I know that I'll see it again!
April 12, 2021
Excellent movie for the whole Family. Acting was powerful , brings you to tears, that is reaching an audience. A Must See film for believers. Very entertaining and a lesson for bully's.