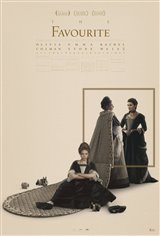 The Favourite
| 98 Reviews
Write a Review
In Theaters: November 23, 2018
On DVD/Blu-ray: March 5, 2019
R | Drama | 2h 0m
2.71/5
Based on 236 votes and 98 reviews.
Please rate between 1 to 5 stars
Showing 11-20 of 98 reviews
February 16, 2019
A film for people who like films and not just the recycled garbage of Hollywood, which, it appears from the reviews you see on this site, are what most of the Tribute readers are looking for. This is one of those rare historical films that manages to tell a little know patch of actual history while keeping it pretty entertaining. I should note that some of the event may not have happened it is based on stories from people in the court, including Sarah Churchills own tell all. Beside that, the acting is fabulous and there are a lot of great laughs
February 15, 2019
If you are a masochist you may love this film. I'm not a prude but it is beyond me how the Producers raised the millions to make this piece of trash. Story was weak. Music was distracting. Acting was average at best yet somehow it got 10 Nominations. Save your cash money and watch when it is released on DVD if you must. I'd give it Zero or minus if I could but one star for costumes.
February 13, 2019
Outstanding(mature only!) lt's an"Amazing" experience.
February 11, 2019
Absolutely the worst movie I've seen in a very long time. No story line and horrible ending. Don't waste your time or money. One star is for the queens acting
February 7, 2019
Great cast, terrible movie. Boring, not funny or entertaining.
February 6, 2019
Very disappointing , acting was very good, Olivia did good job, but movie was quite boring
February 6, 2019
So unimportant! No historical significance....only nasty rumored sexual affairs between women. PLEASE do NOT bother.
February 6, 2019
A tour de force of 3 amazing performances! One of the best movies of the year!
February 5, 2019
Absolute horrid movie from beginning to end! Raunchy, depressing & totally unbelievable! The One & Only saving grace to this movie was Olivia Coleman's terrific acting!
February 5, 2019
The trailers were the best part. Should have read reviews first ~ acting was fine, but the storyline was awful ~ read the other one stars and I would concur. Wasted 2 hours watching hoping for something worth my time. Sorely disappointed ~ not wasting anymore time reviewing.