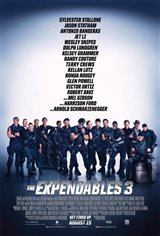 The Expendables 3
45 Reviews
|
Write a Review
In Theaters: August 15, 2014
3.45/5
Based on 132 votes and 45 reviews.
41.82%

18.18%

7.27%

9.09%

23.64%
Please rate between 1 to 5 stars
Showing 1-10 of 45 reviews
January 9, 2015
I liked the first and second better, too much shooting and I mean way too much!
November 26, 2014
LMAO OMG, these old dudes should stop already. They say men look better as they age while women fall apart. Such B.S.!! Leathered faces, so uncool.
November 17, 2014
This movie was good.
November 16, 2014
Thrilling finale to a brilliant trilogy. What a show!
November 16, 2014
This was the best of the three. Antonio Banderas was my fave. Enjoy the ride.
November 6, 2014
beats the hell out of Kramer vs Kramer
September 30, 2014
Hell of a good show the best one of them all an A+ for mad max vs Rambo pure genius
September 17, 2014
Old guys meet young guys (& girl).. blow up lots of things, not much of a story but do we really care when we buy a ticket to this
September 16, 2014
Enjoyed it very much. Even though they are all older they all performed well. Lots of action.
September 7, 2014
Best Expendables yet. Great to see these legends in one film. Surprised Harrison Ford had much more screen time than I thought he would. Good to see him in scenes with both Sly and Arnold. Loved the story and also thought Mel and Antonio gave stand out performances. Go see it if your a action movie fan.