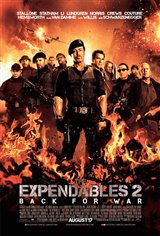 The Expendables 2
202 Reviews
|
Write a Review
In Theaters: August 17, 2012
4/5
Based on 618 votes and 202 reviews.
45.15%

24.75%

20.74%

3.68%

5.69%
Please rate between 1 to 5 stars
Showing 1-10 of 202 reviews
May 29, 2013
i am glad that Sylvester Stallone changed the concept for this movie. When i watch this movie i was like wow. This movie was funny and good. If anyone who wanted to give this movie a 1 star is missing out of what a good movie this was. I would love to see this movie again. The action part was very good. Way to go to the cast.
December 15, 2012
who ever thinks this movie is more then 1 star rating must have a small brain
December 15, 2012
Very stupid movie
December 7, 2012
We watched it on 10X and my husband fell asleep... boring story with lame lines... old actors punning themselves... ridiculous.
November 23, 2012
Awesome action packed. Great cast! A must to any action fan.
October 1, 2012
Good movie, but filled with numerous quotes from all the big name stars. Excellent if you are in the mode for action followed by more action, but not if you are looking for a detailed story. Felt like there were some gaps, but overall it was good.
October 1, 2012
Cheesy fun!
September 30, 2012
we need brtter actors more action
September 30, 2012
we must change the actors inthe moviewe need stoln play by cris cooper
September 30, 2012
LOVED it! I can't wait to see if they make a 3rd!