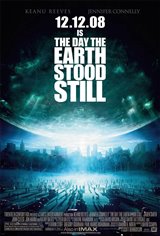 The Day the Earth Stood Still
110 Reviews
|
Write a Review
In Theaters: December 12, 2008
3.48/5
Based on 900 votes and 110 reviews.
49.26%

5.34%

8.31%

18.40%

18.69%
Please rate between 1 to 5 stars
Showing 1-10 of 110 reviews
September 24, 2009
I was hoping for more..glad I didn't pay money for this film.The idea is old.I'm giving it 3 stars for the affects.
May 4, 2009
Stop and smell the roses. This movie was an eye opener, not far from reality.
March 22, 2009
I LOVE THIS MOVIE!!!!!!!!!!!!<3
February 17, 2009
This movie wasted entirely too much time dabbling with the relationship of the bratty, ungrateful child and his adoptive mother. The human race is on the verge of extermination by aliens. Who cares about the tribulations of some child? Waste of time and money. I kept waiting for something more and then it ended suddenly. Bad.
January 30, 2009
I kept expecting something huge to happen but it never did.
January 28, 2009
is movie is a very very very good good good to watch and i watch again agian all the time .
January 26, 2009
see i didnt mind this movie.. it kept me entertained.. thats all that matters
January 19, 2009
Big disappointment. Yes the message is good but don't need this type of setting to get it. Expecting something big the entire time and it just never really happens. Jennifer C. as always great though.
January 16, 2009
Predictable Hollywood movie. As long as you're not expecting Ben Hur or Citizen Kane it was very entertaining
January 11, 2009
Beginning was fantastic - then it went down-hill from there!