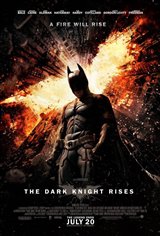 4.04/5
Based on 1864 votes and 522 reviews.
Please rate between 1 to 5 stars
Showing 1-10 of 522 reviews
February 2, 2018
Still very good but I put one star down for annoying Catwoman who looks like from another movie - from the typical comic version, not from this more realistic Nolan´s universe.
September 25, 2017
This movie, or should i rather say this propaganda piece would appeal to a people with very low IQ and some really die hard Batman fans.
September 25, 2017
Throughout the movie i had a feeling that i was watching some stupid piece of propaganda how wonderful all super rich people are and how dumb are the rest of us. That orphanage in Bruce's house almost made me puke.
September 25, 2017
Gotham painfully reminded me of LA and NY. I mean really painfully.
September 25, 2017
There are A LOT of long, boring, brainwashing , cliché dialogs.
September 25, 2017
1. This movie is almost 3 hours long. Out of this 3 hours Batman was sick and crippled 2 hours. He was in his batman suit and did his batman stuff 15 minutes.
September 25, 2017
he movie was so boring and lengthy that I considered to leave the cinema. The script was predictable at some points and the acting was so poor amongst some of the actors. Anne Hathaway was horrible, she was not convincing at all and her outfit looked like a cheap Halloween costume. Bane, the main villain of this movie was killed in a split second and everything was forgotten about him, that's it. It's like the script writers wanted this movie to end quickly as possible at this point.
September 25, 2017
such a depressing movie
April 11, 2014
Happy 75th Anniversery of Batman
April 7, 2014
If you like action, drama, and suspense... with some amazing special effects (all of batman's toys), you're going to love this movie!!!