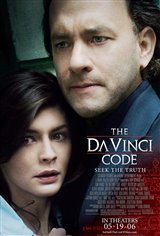 The Da Vinci Code
2163 Reviews
|
Write a Review
In Theaters: May 19, 2006
3.51/5
Based on 63556 votes and 2163 reviews.
27.41%

34.73%

16.64%

4.21%

17.01%
Please rate between 1 to 5 stars
Showing 11-20 of 2163 reviews
October 11, 2006
The one thing I have to say about The Da Vinci Code is that it had way too much hype, so you might be a bit disappointed. But not a bad movie. I did, near the end of it looked at my watch to see how much longer.
October 8, 2006
l couln`t understand the movie, l just didn`t care for the movie ,it was a waste of time and money l do like Tom Hanks though.
October 5, 2006
very good move will rent it too
September 30, 2006
This movie was not bad. Although it didn`t seem complicated to me at all, it got extremely long, and keeps you on the edge of your seat...guessing when it`ll finish. After you watch it a second time, it`s really just an okay movie, the first time was the best.
September 27, 2006
Followed the book very precisely which made the movie a little boring if you have already read the book. Decent enough movie, thought.
September 27, 2006
2 thumbs up
September 17, 2006
if you have already read the book, the movie might dissappoint. i wish i would have seen the movie first. although it was nice to get a visual of all the places in the book, Tom Hank`s hair stole the spotlight... and not in a good way
September 9, 2006
good entertainment
September 4, 2006
i thought it was awesome!!!!!!!!!!!even though none of it was really true. Its a buyer.
September 3, 2006
I personally thought it was a good movie. the only part i didn`t like was when the crazy dude beat him self. other than that it was awesome