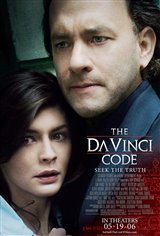 3.51/5
Based on 63556 votes and 2163 reviews.
Please rate between 1 to 5 stars
Showing 1-10 of 2163 reviews
September 2, 2007
real cool. i loved this movie!!!
June 5, 2007
this movie is nothing like the book! there is no plot and Kate's character is gone completely! She basically sits there doing nothing for the whole movie and i dont think i have ever been so disappointed with an ending of a movie!! i LOVE tom hanks but this really was not the right role for him. the best part of the whole movie was probably ian mckellen who was amazing as lee teabing!!
April 16, 2007
big waste of time don`t watch it
March 8, 2007
this was an awesome movie and an awesome book i cant wait till the angels and demons comes out to the theatres i am so excited.
March 2, 2007
good movie but there was way too much hype. There was no way this mpive could live up to all the hype surronding it.
January 29, 2007
the book was quite different from the others
November 28, 2006
Great screenplay of the book. I`ve read the book and viewed the DVD. The movie captures 75% of the book which is not easy to do within 90 to 120 minutes. The actors portrayed the book characters just as I had imagined them and because I already knew the storyline, the film flowed perfectly. If you haven`t read the book, there will be small gaps for you when watching the movie. Either way I didn`t like the ending. Watch the DVD extras for more on filming in the Louvre. I gave this ****.
November 16, 2006
davinci code was not as good as the book..........i hope they make and angels and demons book or digital fortress
November 15, 2006
You know, after renting The Da Vinci Code Movie, I watched it, I liked it. Sometimes you wonder if their is a bloodline from the Lord Jesus Christ, BLOODLINE(Familytree), I thought the movie would have been a waste to watch, I was too involved.
October 13, 2006
I didn`t really like this movie. The only reason I even wen`t to see it was because my girlfriend wanted to see it. I was bored while watching it. Found it long and hard to follow. I`m not a very religious person and left the movie wondering if alot of the things depicted in the movie we`re even true.