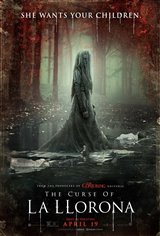 The Curse of La Llorona
| 20 Reviews
Write a Review
In Theaters: April 19, 2019
On DVD/Blu-ray: August 6, 2019
3.51/5
Based on 116 votes and 20 reviews.
Please rate between 1 to 5 stars
Showing 1-10 of 20 reviews
June 12, 2019
It wasn't bad but it followed the often used formula of a horror so not too original and thus kind of boring.
May 8, 2019
It was decent. The movie had so much horror potential but only replied on jump scares and not much was happening.
May 1, 2019
The movie was great but I wish they could of added a twist, not to be mean but like one of the child's passed away and more playing of the llorona when she is walking towards the children.
April 27, 2019
Scared the heck out of me. I kept getting the chills.
April 27, 2019
It was okay to say the very least. If you're a tween or younger it might have been scary for you. But for those of us who are connoisseurs of horror movies it was a waste of time and money. The best and funniest part of the entire film was at the end when the ex-priest said, "Ta da." Hence the one star. The only reason we went to this one is because "Pet Cemetery" was showing at 11:30 P.M. Too bad.
April 27, 2019
I give it a -1 for wasting my time! I couldn't chew my popcorn because movie was so slow and soundless. Stupid plot and the only real horror was the acting. Don't believe me, go see it.
April 25, 2019
If you want to see a movie that will make you jump and send shivers down your spine, this is the one! Very creepy and in a way, very similar to a movie like Jaws, you never know when La LLorona is going to strike. I thought it was well worth the money for a good, edge of your seat scare.