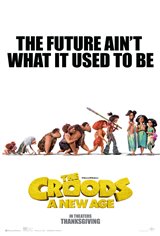 3.9/5
Based on 126 votes and 7 reviews.
45.00%

30.00%

10.00%

0.00%

15.00%
Please rate between 1 to 5 stars
Showing 1-7 of 7 reviews
August 23, 2023
Didn't like it the first time around. Better than that Haunted Mansion though. That was the worst movie I've seen in years.
August 23, 2023
Why?
January 24, 2021
Another great movie for kids by Dream Works. so colorful and fun. Perfect family movie. Happy Ending.
December 10, 2020
A W E S O M E
December 4, 2020
Save your money, was disappointing
November 26, 2020
I loved it. Its visually appealing and loved the story. I liked the idea that early in the movie it filled in the missing story about Guy and why he was alone at a young age. Totally recommend it!!!!
November 26, 2020
Movie is very different and very colorful. Unusual Disney feature, mostly for kids but for adults who want to escape the real world.