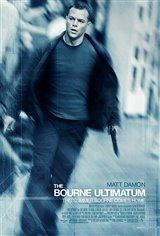 The Bourne Ultimatum
165 Reviews
|
Write a Review
In Theaters: August 3, 2007
3.61/5
Based on 6844 votes and 165 reviews.
48.29%

14.03%

9.17%

7.19%

21.31%
Please rate between 1 to 5 stars
Showing 1-10 of 165 reviews
September 8, 2009
best action/cia movie ever made
February 3, 2008
This movie continues the legacy the first two built. It rocks my hot purple socks!!
January 7, 2008
5 stars
January 4, 2008
Great Action Movie!
December 11, 2007
absolutely stunning! A great sequel to the first two and Matt Damon has only proven his skills even more. The action is amazing, I don't know why people say the camera causes headaches, because I didn't notice it at all. I'd LOVE to see a fourth one!
November 8, 2007
AWSOME, AWSOME AWSOME! Jumpy camera at chase scenes are enough to cause a headache but that would be my only complaint. My husband didnt even see the first 2 movies, with a few quick fill-ins during the movie he enjoyed this one alot.
October 28, 2007
Best movie of the summer. Not a dull moment. Would see it again!
October 22, 2007
First two were a million times better.
October 21, 2007
a solid film
October 20, 2007
It is the most extra ordinary movie ever made. High on adernaline:)