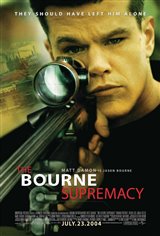 4.06/5
Based on 17239 votes and 147 reviews.
Please rate between 1 to 5 stars
Showing 1-10 of 147 reviews
January 2, 2008
As amazing as the first. This is an excellent sequel, I'd pay to watch it over and over :) Matt Damon's acting is great if it was another actor, hm, not sure it would be as great as it is.
December 15, 2007
great film filled with action.
March 13, 2007
This is so my favourite movie! I love Matt Damon, any movie he`s in is guaranteed to be awesome!
October 11, 2006
I really liked The Bourne Identity. I loved Matt Damon in it. Just seeing him doing an action movie is good. But the sequel just didn`t catch my interest.
March 18, 2006
simply the best film i have ever seen. i even based my coursework on it
August 16, 2005
One of the best movies I have ever seen. Even though it strays very far from the book I thought it was a great story. I can`t wait to see the Bourne Ultimatum. I only hope Matt Damon returns as Jason Bourne.
June 7, 2005
the best movie on earth!!! i love matt damon!!! cant wait till the third one!!!!!!!!!!!!!
February 1, 2005
brilliant
January 7, 2005
Love it, one of the best rentals ever
January 6, 2005
It causes me pain to watch a movie which simply borrowed the characters of a great book and then weaves their own plot of lies to the viewers. I dont have anything against Matt Damon or Julia Stiles. They acted well. Its their job for god`s sake. But the producers should be ashamed of themselves. I dont see the sense in spending too much for the visual effects without even spending a dime to research ludlum`s book. God! I dont know what is wrong with hollywood right now.