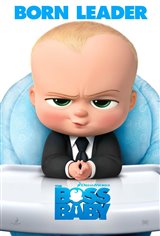 The Boss Baby
| 54 Reviews
Write a Review
In Theaters: March 31, 2017
On DVD/Blu-ray: July 25, 2017
3.11/5
Based on 182 votes and 54 reviews.
Please rate between 1 to 5 stars
Showing 1-10 of 54 reviews
March 15, 2018
Perfect movie for my 5 year old (and I thought it was good too!) Great underlying positive themes about team work, family dynamics and problem solving. Funny too with bad guys who aren't too scary. And brothers who learn to understand brotherly love :)
July 24, 2017
funny parts. Especially when he falls asleep mid-rant and realizes so he yells out Power Nap! Made me lol. Pretty decent flick.
July 17, 2017
Thought this would be a funny movie. Did not enjoy it.
June 21, 2017
It was good.
June 8, 2017
unnn so good
May 28, 2017
Overall good popcorn fun, I guess people with serious lives can't get this film, come on now it a kid movie and if u cant look through that then u miss the point. I enjoyed it and got quite a few laughs and the animation was excellent, as I went to the drive inn as I wanted to see guardians of the galaxy 2, but when I watched boss baby for the first feature I'm glad I did.
May 26, 2017
Watched it for 10 minutes, really stupid movie and not funny.
May 9, 2017
Movie was silly and boring. Seriously? No even funny. Silly but without brains.
May 9, 2017
The only thing I dislike about this movie is the condescending reviews of pompous snobs with perfect lives lol. Get over yourselves, it was an overall acceptable film for a younger audience that teaches many basic life values (such as forgiveness, love, over-coming adversity, yadda yadda yadda) that some of its unfortunate viewers apparently cannot absorb because they're too absorbed with themselves. Its worth a crack if you agree with this review. Its one of the more recent animated films that my wife, and children and I, can fully accept and understand. With all that said; its not a masterpiece, but if you happen to have a hankering for a family fun flick for all ages then sure, go see Boss Baby.