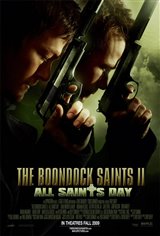 The Boondock Saints II: All Saints Day
3.39/5
Based on 75 votes and 10 reviews.
Please rate between 1 to 5 stars
Showing 1-10 of 10 reviews
March 25, 2010
Loved the first! This movie however was beyond terrible. The plot is nonsensical, the jokes unfunny and the acting poor.
March 21, 2010
CRAP compared to the first one!
February 24, 2010
first one was awesome, original plot, funny, interesting. This one felt like it was trying really hard, but had nothing to offer. weak, overly complicated plot with way too much focus on the detectives. a couple funny parts but that was it.
January 11, 2010
Even better than the first one!
November 28, 2009
the ending was mind blasting!!
November 18, 2009
A sequel this good hasn't come out since T2.
November 18, 2009
This was a great follow-up for an awesome cult movie - not perfect, it was a little too long, but there were plenty of references to the first film, lots of in-joke moments, and a couple of great twists. I wish there could be a third in the series - the Saints need to go global!
November 15, 2009
I'm a huge fan of the first boondock saints. I don't really know what to think after seeing All Saints Day. It was alright. It was entertaining. I laughed at parts. But overall, it didn't come close to following in the footsteps of the first movie. If you're a Boondock fan, you'll probably enjoy this movie, but you may want to wait for the rental. Not to give away too much, but they tried to make the plot too complicated by having overlying and intertwining stories with multiple villains. Troy Duffy should have just stuck to his simple Boondock 1 version and just made this movie a simple revenge movie with one bad guy.
November 15, 2009
cut all the stupid bull sh** from the movie and the movie would have been great. Cut the stupid detectives and make Eunice a better character and cut out all that cowboy, ice hockey "thanks for coming out" stuff. The brothers are awesome together though and that was worth watch.
November 14, 2009
great to see the boys back together to make a great sequil to one of my favourite movies. I only wished it was longer. I hope they make a boondock saints 3