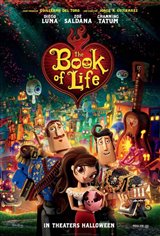 3.64/5
Based on 28 votes and 8 reviews.
54.55%

9.09%

9.09%

0.00%

27.27%
Please rate between 1 to 5 stars
Showing 1-8 of 8 reviews
January 1, 2015
I enjoyed it in most respects. A good, meaningful story, with superb animation. The whole cast was good. I just wish people who give a movie one star would say something about why they didn't like it- what it's flaws were. And if they say it isn't their kind of movie, try checking out the previews.
December 23, 2014
Very nice movie... And lesson to learned... Really recommend to watch it.... My kids want to watch it again... Cant wait for the DVD
November 11, 2014
The story, the visuals, everything was amazing. Can't wait to pick it up on DVD
November 1, 2014
Really enjoyed this movie. Amazing animation and great story line. Would watch this movie again
October 24, 2014
The best movie
October 24, 2014
Beautiful movie
October 24, 2014
Art style is amazing. The story was cute, great lesson taught for kids. animation and character design is gorgeous. I see nothing wrong with the movie. 10/10
October 21, 2014
Would not see again.