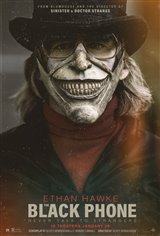 The Black Phone
| 21 Reviews
Write a Review
In Theaters: June 24, 2022
On DVD/Blu-ray: August 16, 2022
3.58/5
Based on 62 votes and 21 reviews.
Please rate between 1 to 5 stars
Showing 1-10 of 21 reviews
November 12, 2022
Creative and quite original; at least within the last few years. I was a kid in the 70s and this was pretty accurate, unlike the snowflakes today. Good story; inventive. Like the small number of twists and a great ending.
August 13, 2022
these reviews are weird i thought it was so good
August 10, 2022
Formula movie. Should never have been made.
August 3, 2022
This the movie because it is not scary its like a little and I like finn ,robben and finn"s sister and the dad is the worst
August 2, 2022
the plot and ending
August 2, 2022
It's definitely not the scariest it's more of thriller with horror aspects but the movie it self was great. It has great depictions of the 70's and really shows what life was like then. I've watched this movie several times already and I would watch it again.
July 30, 2022
The grabber was a great villian. The movie was really Gorey for a child cast, and it had EXCELENT actors. I'd 10/10 reccomend the movie. Although some scenes felt kinda..out of place. Characters were lovable and the plot made sense. The jump scares made sense and weren't cheap. Great use of CGI, the ending wasn't awful but it could have been a little more closure but it was all around a good movie. Ps. The grabber was hot lowkey
July 30, 2022
This movie just never gets going. It wasn't scary, either.
July 21, 2022
I was excited by EH's potential in this movie. Ultimately, it felt like I was watching a spooky movie on Nick at night close to Halloween. Story was cheese.
July 17, 2022
One of the worst movies I've ever seen