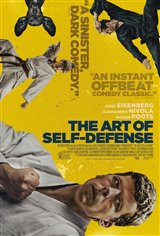 The Art of Self-Defense
8 Reviews
|
Write a Review
In Theaters: July 12, 2019
On DVD/Blu-ray: October 15, 2019
2.75/5
Based on 16 votes and 8 reviews.
12.50%

37.50%

0.00%

12.50%

37.50%
Please rate between 1 to 5 stars
Showing 1-8 of 8 reviews
July 31, 2019
Great movie!
July 29, 2019
Sick humor not funny.
July 29, 2019
i thought it was gonna be a comedy and it turned out very dark. in fact....IT SUCKED
July 27, 2019
Low budget and poor acting. No redeeming qualities. Wouldn't recommend. Agree with previous comments.
July 26, 2019
Worst movie I have ever seen - not just dark, evil - not too many funny scenes, mostly just sick!
July 19, 2019
A great movie to laugh, silly plot but this dark comedy, sci fi you do not want to miss!! Fun times could be held for all take a chance and see THE ART OF SELF DEFENCE
July 18, 2019
I saw this on Monday at an early promotional screening set up by the film company, and it is hilarious. I understand all of the positive reviews that have been coming in for this film. It is definitely a dark comedy and I recommend seeing this in a theatre with friends and fellow theatre goers as it will be an even better experience than waiting to watch at home. I don't want to give anything away, but I will say that men and women laughed in equal measure at the absurd notions in this movie. The deadpan delivery of some of these lines is classic. No idea how they didn't break out laughing often (maybe they did!) while filming. If you are tired of reboots and sequels and want something fresh and unique - and funny as hell - go and see this film and help it spread to additional theatres across Canada.
July 18, 2019
Excellent movie, very entertaining. Up front humor with just enough of a dark side to make it different. highly recommend.