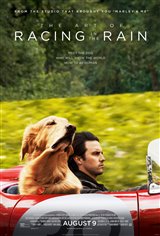 The Art of Racing in the Rain
| 77 Reviews
Write a Review
In Theaters: August 9, 2019
On DVD/Blu-ray: November 5, 2019
4.72/5
Based on 194 votes and 77 reviews.
Please rate between 1 to 5 stars
Showing 1-10 of 77 reviews
October 20, 2019
A predictable movie at the same time a lovely movie. I gave it 4 stars instead of 5, unsure of KC as the voice of the dog. Some of the descriptions that he would say about the car racing, sounded too much being read from the script and too wordy.
September 20, 2019
LOVED it! Made me laugh and cry! Recommend to anyone who loves movies they keep thinking about days after you have seen it!
September 20, 2019
The movie does the book justice. Beautiful show! I want movies like this!
September 18, 2019
Totally predictable movie, but good family fair. Very enjoyable. It's nice to be able to come out of a movie having laughed and cried and still feeling good.
September 17, 2019
Excellent for any age or sex, has something to please everyone. Acting was superb.
September 5, 2019
A wonderful story teller. The show hit all of the right senses: Laughing, sadness, excitement, and a positive ending. My dog passed away recently and I wanted to go out and get another. God put dogs on this planet to help us. What a creative writer.
September 4, 2019
Glad I decided to go see this! I thought it would be just another dog movie!
September 2, 2019
Accurate translation from the novel. Strong performances from the actors.
September 2, 2019
This movie was the best! I will admit I shed a few tears but it told the story from the dog's eyes. It also had a great storyline and was about relationships too. You are always rooting for Danny, the dog's owner. Milo Ventimiglia, who plays Danny, is a great actor and it comes through in this film. It's a great family movie but could be sad at some points for little kids.
September 2, 2019
FANTASTIC and sad GREAT MOVIE