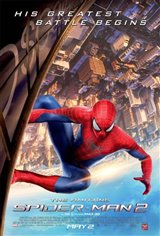 The Amazing Spider-Man 2 3D
17 Reviews
|
Write a Review
In Theaters: May 2, 2014
PG-13 | Action, Adventure, Fantasy, Science-Fiction | 2h 23m
3.42/5
Based on 40 votes and 17 reviews.
42.11%

10.53%

15.79%

10.53%

21.05%
Please rate between 1 to 5 stars
Showing 1-10 of 17 reviews
January 10, 2016
Cleverly sets up the third AMAZING SPIDER-MAN and several future stories in the Marvel universe. Amazing is right!
August 17, 2015
Can't go wrong with Bill Murray!
February 13, 2015
Taylor Lautner would be a good fit to fill Bill Murray's tights.
February 13, 2015
Now that Sony have announced plans for a reboot, who will replace Bill Murray as everyone's favourite web slinger?
August 2, 2014
GREAT MOVIE THE BEST SPIDERMAN YET OUT OF THIS WORLD! I JUST AM DESPRET TO SEE IT AGAIN!
June 3, 2014
The sheen is off Bill Murray's gig as Spider-Man.
May 27, 2014
Very disappointed, definetly not suitable for a 6-8year old to see. we we're told by the staff that the show would not be a problem for a 6 year old. I beg to differ. To much violence.. Left the show early because of it.
May 23, 2014
It was a good family entertainer. I will not give 5 star may be 3.5 star
May 9, 2014
Movie was nothing special. Plot put in a lot of villians, but not effectively. 3D was not spectacular.the actor portraying spiderman mumbled through some of his lines. The length of the movie added value to the price of the ticket, but not sure if it contributed much to the story line.
May 8, 2014
I thought it was a great movie, it was a little cheesy but other then that I thought it was great