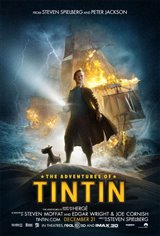 The Adventures of Tintin
87 Reviews
|
Write a Review
In Theaters: December 21, 2011
4.02/5
Based on 372 votes and 87 reviews.
23.12%

60.69%

13.29%

1.16%

1.73%
Please rate between 1 to 5 stars
Showing 1-10 of 87 reviews
July 29, 2012
i am not a fan of animation movies for the most part but i liked this one. i like the characters and the actor's voices were great. (someone give andy serkis an academy award for goodness sake, he deserves one!) why did they have to change the dog's name to snowy? that wasn't necessary. there were parts where it dragged a bit or became redundant but overall it is worthwhile to see. i'd like to see the next one but hopefully it won't have a drunk as a main character.
May 14, 2012
good fun for the entire family.
March 21, 2012
fun film, but not for kids. animation was stunning, even on teh small screen.
March 12, 2012
enjoyable and light-hearted. a good movie.
March 12, 2012
good movie, much different than i anticiapted, but very well done. very impressive animation. only complaint was that the movie was about 20 min. too long.
February 20, 2012
can't wait for the next movie!!! it was amazing!!! loved it!!!
February 2, 2012
good movie
February 2, 2012
good to enjoy this movie
January 24, 2012
i've never read the series or seen the cartoons and i quite enjoyed the film. my boyfriend however, watched the cartoons as a kid and thought the film paled in comparison. 4 stars from me. 2 from him.
January 8, 2012
Another great adaption of a childrens book to film