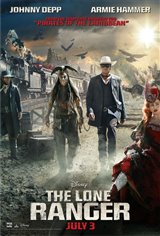 The Lone Ranger
85 Reviews
|
Write a Review
In Theaters: July 3, 2013
3.83/5
Based on 216 votes and 85 reviews.
53.27%

17.76%

5.61%

5.61%

17.76%
Please rate between 1 to 5 stars
Showing 1-10 of 85 reviews
November 6, 2016
Johnny makes a FANTASTIC Tonto!
November 16, 2014
You can't go wrong with a Johnny Depp movie.
May 28, 2014
Best summer movie EVER!
May 4, 2014
Worst movie ever, me and my mom hated it.
January 7, 2014
Pretty bad. Don't waste your time on this one.
January 2, 2014
Such a great film!
January 2, 2014
Are they kidding? This is the worst lone ranger version I have even seen. It was terrible to see Tonto played as a savage. In the past he was portrayed as a civilized, intelligent person with high moral and ethical standards. Its a shame to degrade him like this. Armie Hammer portrayed the ranger no better. I have b een a LR fan for 65 years and sincerely believe that Clayton Moore, if still alive, would die if he saw this and if dead, would turn over in his grave. The credits showed hundreads involved in the making of this film. I cannot imagine what they were thinking. It appears that the movie is geareed toward 5 year olds. I got it from Redbox for $1.50 and feel I overpaid for it. I actu
December 27, 2013
It really was AWSUM!
December 5, 2013
Probably because it was crap!!
December 5, 2013
We loved this movie. I don't understand the little interest of it. Can't wait for the DVD release.