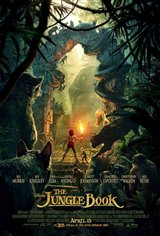 The Jungle Book
106 Reviews
|
Write a Review
In Theaters: April 15, 2016
4.28/5
Based on 266 votes and 106 reviews.
60.33%

25.62%

3.31%

3.31%

7.44%
Please rate between 1 to 5 stars
Showing 1-10 of 106 reviews
September 11, 2016
Was an ok movie! Not really a great remake. I expected more from Disney.
September 4, 2016
SO TERRIBLE. ONE OF THE WORST MOVIES EVER. BORING, UNFUNNY JOKES, THIS REMAKE DOES NOT DESERVE TO SHARE THE NAME OF THE ORIGINAL
August 31, 2016
Pure Disney magic - and a nice mix of Kipling's tale and elements from the Disney animated classic. Neel Sethi is incredible as Mowgli - especially when you consider he was acting to a green screen, or Henson Workshop facsimiles of the other characters, most of the time.
July 18, 2016
Finally got to see this on the weekend. I was impressed. Adding the 2 great songs from the cartoon version in a unique way was key. Everyone says the movies rely on too much CGI nowadays, well this one, the CGI helped make the story what it was. Mowgli was a great actor considering he's a newbie in the movie world, he acted as though he'd been around talking to animals for years!
June 1, 2016
How animals came together at end against the lion..great movie.
May 27, 2016
I thoroughly enjoyed it. A wondrous retelling of the tales by Rudyard Kipling. A drawing card for children and adults alike. Very realistic depictions of the animals. Heartwarming and fun. My kind of movie.
May 21, 2016
Good
May 20, 2016
absolutely magical!
May 20, 2016
stunning images, 3d version is better
May 18, 2016
fantastic, just fantastic