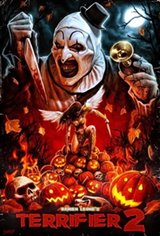 Terrifier 2
11 Reviews
|
Write a Review
In Theaters: October 6, 2022
On DVD/Blu-ray: December 27, 2022
Horror | 2h 18m
3.7/5
Based on 46 votes and 11 reviews.
60.87%

4.35%

4.35%

4.35%

26.09%
Please rate between 1 to 5 stars
Showing 1-10 of 11 reviews
November 3, 2022
They ruined Halloween with tht dude Jamie lame Curtis, it was terrible but Terrifier saved the day and gave us all a insane monster we can be proud of . I loved this movie and theres one of the greatest slasher scenes tht will make u puke . Art brings back the good old torture techniques tht lack in horror movies these days... A++++ Give us part 3 PLEASE
November 3, 2022
Lame horror for stupid kids.
October 27, 2022
Lots more gory then the 1st flim a true horror
October 24, 2022
Ineffective and shallow. This is for kids.
October 24, 2022
Don't be like everyone else with for the credits!!!! Makes the movie ending so much better!
October 24, 2022
Better than the first one. And it's got more scare to it
October 23, 2022
This was a great sequel to the first 2 movies! It was more brutal and gorey than ever, so make sure you watch All Hallow's Eve or Terrifier so you know what to expect beforehand.
October 22, 2022
not the kind of movie that i cared for
October 22, 2022
The gore is INTENSE so some people probably won't be able to handle that but this movie is a triumphant sequel to the incredibly enjoyable Terrifier. Art lives!
October 19, 2022
Being a horror movie fan - I found this just fun and enough scare and gore to make it a fun night. Not everyone can take the gore BUT COME ON - if you are a fan of scare - definitely come see this and have fun watching.