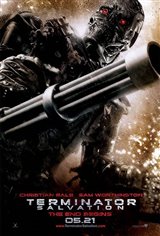 Terminator Salvation
245 Reviews
|
Write a Review
In Theaters: May 21, 2009
4.03/5
Based on 2995 votes and 245 reviews.
58.03%

13.18%

12.18%

6.76%

9.86%
Please rate between 1 to 5 stars
Showing 51-60 of 245 reviews
June 2, 2009
I'm tired of the horrible reviews people give movies like this. Yeah its got big shoes to fill being a movie in the ladder half of the series, but if you look closely it followed the story line perfectly. Bad story ??? Everything made sense, and maybe some of you make reviews based on your own opinion in your little brains universe. The intro set the pace and helped create a feel for the first cyborg terminators, and the experiences they had coming into play. Also the humans being captured seems to stun the narrow minded yet when you stop to think about it... MAYBE THEY ARE GONNA BE TURNED INTO CYBORG TERMINATORS SINCE IT SHOWED A CRAP LOAD OF THAT MODEL BEING MADE !!! and the best line is "
June 1, 2009
worth it.
June 1, 2009
Terminator Salvation has finally died at the box office! Maybe when they try to reboot the franchise in the future, they'll actually pay for a script!
May 31, 2009
The best "2 stars" movie. Worth to wait for the DVD.
May 31, 2009
A lot less than what came before and the intro is the longest I have ever had to sit through, before the title screen came up.
May 31, 2009
In my opinion, it has nothing more than action. Neither good or bad.
May 30, 2009
Garbage...1 star.
May 30, 2009
Great action!Poor storyline.
May 30, 2009
One of the worst movies of the decade
May 30, 2009
This is the best Terminator movie yet