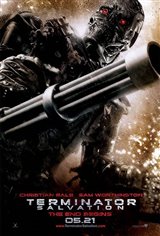 Terminator Salvation
245 Reviews
|
Write a Review
In Theaters: May 21, 2009
4.03/5
Based on 2995 votes and 245 reviews.
58.03%

13.18%

12.18%

6.76%

9.86%
Please rate between 1 to 5 stars
Showing 41-50 of 245 reviews
June 7, 2009
too serious....
June 6, 2009
This movie is crazy amazing i give it 5000 stars if i could
June 6, 2009
i thought the movie was just amazing. It was just the way i thought the final battle was going to be. I would for sure go and see the movie agai.
June 6, 2009
75/100! TERMINATOR: SALVATION is the best movie sequel since U.S. MARSHALS!!!
June 6, 2009
Movie was great, followed the true storyline.
June 5, 2009
In 2018, the world is dominated by no more than 20 machines. I Robot has more than that! LOL.
June 5, 2009
Boring and predictable, except for some parts that were just so stupid they were ridiculous.
June 5, 2009
Absolutely terrible. Horrible soap-opera type of script; if the writers watched the first two movies at all it must have been with the sound off. The action wasn't even satisfying. Just watch the first two movies and forget this one and the third one ever existed.
June 3, 2009
Wish there were more scenes with the "machines", and not so much focus on the humans. Still worth a watch though!
June 2, 2009
Much better than Terminator 3 for sure. I loved the action and really liked the CGI Arnold, it was well done. It lacked the plot of the first 2 films but it lacked the predictability of the third film too. It's very enjoyable for action fans, but I did miss the characters, dialog and commentary on humanity the first 2 films had, especially the second.