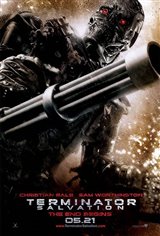 4.03/5
Based on 2995 votes and 245 reviews.
Please rate between 1 to 5 stars
Showing 31-40 of 245 reviews
June 14, 2009
Very good special effects and CGI. But just a poorly done movie topped off by lousy acting by Christian (I'm the best actor in the world) Bale. His acting almost reaches the lowest poor levels of Nicholas Cage. In any event, poorly done effort. Can't move at night because the robots have Infrared. So they just light big fires all over the place and sit out in the open. When shooting at robots the humans hit them every time but when shooting at robot guy and pilot girl everyone misses, every time. Never mind all the explosions and fires the robots can't seem to notice. And we're supposed to believe that a robot whose job it is to kill John Connor is just going to throw him around for a while
June 13, 2009
MAJOR DISAPOINTMENT. Christian Bale was not convincing and the terminators never really scared us. This move sucked big time.
June 10, 2009
Great action Movie
June 9, 2009
What a huge disappointment. I've been waiting for this movie for a year and this piece crap is what they delivered. I should have known better when they announced Mc G was directing. I'm very ticked off!
June 9, 2009
IT WAS FANTASTIC
June 9, 2009
This was the BEST of the Terminator movie next to the first one. It was action packed and Christain Bale does not disappoint. I would love to see it again. SEE IT ... IF YOU WANT TO LIVE!!!
June 8, 2009
simply put it was another terminator movie for the sake of making one....nothing was resolved, for terminators they only attacked one at a time, didnt seem to attack the human bases very often.. and not a very good story. T2 still is the best one thus far.
June 7, 2009
Maybe 2.5 Christian Bale's performance - lacking; storyline - lacking; action - lacking; believability - lacking; the chronicles TV series is better.....but Arnold excellent......expected way more from the hype ...sleeper
June 7, 2009
awesome well done
June 7, 2009
for all the hype, i expected a better film ...hard to say that it is bad, but can't really say there's anything to distinguish this one. pretty leaden through and through, a definite rental.