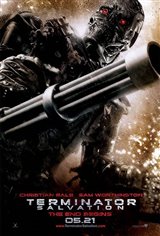 Terminator Salvation
245 Reviews
|
Write a Review
In Theaters: May 21, 2009
4.03/5
Based on 2995 votes and 245 reviews.
58.03%

13.18%

12.18%

6.76%

9.86%
Please rate between 1 to 5 stars
Showing 21-30 of 245 reviews
June 22, 2009
Great movie. Don't listen to the bad reviews.
June 22, 2009
So, so good. Did not dissapoint. TR
June 20, 2009
Unlike Star Trek, this movie has a nearly flawless story line.
June 20, 2009
This was one of the biggest dissapointments i have ever had in a movie,i just hope Transformers will be done better.DONT WASTE YOUR MONEY.
June 20, 2009
great movie!!!
June 19, 2009
best movie Ive seen
June 19, 2009
Not bad, certainly not great. Timelines were shady. Very well done with the CGI on Arnold...almost got fooled into thinking it was him for a sec. I gauge movies based on whether I would own it, I wont own this one. Will watch it if it comes out on TV though.
June 16, 2009
Not as good as Judgement Day, but still a great movie.
June 16, 2009
Did not like the acting story was bad all earlyer terminator movies were better.
June 14, 2009
Better than I expected. Overall entertaining.