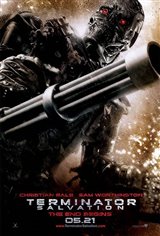 Terminator Salvation
245 Reviews
|
Write a Review
In Theaters: May 21, 2009
4.03/5
Based on 2995 votes and 245 reviews.
58.03%

13.18%

12.18%

6.76%

9.86%
Please rate between 1 to 5 stars
Showing 11-20 of 245 reviews
August 11, 2009
umm yah not the greatest and transformers was about a trillion times better
July 19, 2009
it was pretty good it was scary lol it was funny
July 18, 2009
Christian Bale wasn't right actor for this movie,sorry to say that,and also this movie was to slow and crowded.
July 16, 2009
The best Terminator of them all! Arnold Who???
July 16, 2009
This was a very good film and surely lived up to the level of action from its predecessors and was a very entertaining movie. The dialogue could've used a bit more work but overall, I thoroughly enjoyed it- 4/5 stars
July 6, 2009
Enjoyed the movie for the most part. Didn't seem like the humans should still be alive though, the machines were so dominant. They show a factory where they're building thousands of the robots but you don't see the terminators attack in groups. At least give the humans EM Pulse weapons to disable/capture terminators - that would actually make it seem like the humans could win. Do that and I would give this 5 stars.
July 1, 2009
Moon Bloodgood hot and sexy !!!!!!!!!!!!!!!!!!!
June 25, 2009
Way better than the crappy Transformers if you ask me!
June 24, 2009
great movie!!!!!!!!
June 23, 2009
Best out of the series. :)