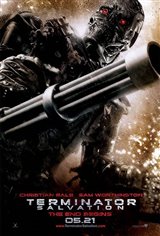 Terminator Salvation
245 Reviews
|
Write a Review
In Theaters: May 21, 2009
4.03/5
Based on 2995 votes and 245 reviews.
58.03%

13.18%

12.18%

6.76%

9.86%
Please rate between 1 to 5 stars
Showing 1-10 of 245 reviews
June 2, 2010
Best of all terminator movies! Sam worthington did terrific as Marcus Wright!
April 3, 2010
The best terminator movie among all!
March 27, 2010
I really enjoy all things Terminator so I went into the movie expecting entertaining terminator fun and I found it! The story was not what I was looking for in #4 but it was fun. Lots of action and the cheesy lines made me smile.
February 21, 2010
Poor story and action. No acting skills required for Bale...
February 1, 2010
Good! worth the money.
January 14, 2010
not bad
December 27, 2009
Really, not the greatest movie. Save your money and try something different.
December 25, 2009
Good Movie
December 7, 2009
Who can follow the time line through out all of the terminators.First hes sent back from the future then in the future blah blah blah.They shoud have named this movie something else doesnt deserve the "Terminator" title. And what was with the crappy "CG" arnie he looked like craP.
August 14, 2009
Great action scenes but poor story development. the dialogue was like a third gradeers book report. The ending was pretty lame too. They are in terminator central and they can send only one freaking terminator after John?