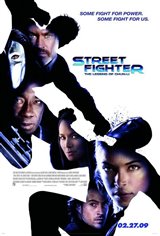 Street Fighter: The Legend of Chun-Li
3.87/5
Based on 327 votes and 51 reviews.
Please rate between 1 to 5 stars
Showing 31-40 of 51 reviews
March 3, 2009
Horrible. Trust the reviews. Don't See
March 2, 2009
Craptastic!
March 2, 2009
omgg bad acting--- Nash out lol
March 1, 2009
Chris Klein is no Jean Claude. The original was much better. A real letdown. 1/5
March 1, 2009
chris klein was AWESOME!! MOVIE OF THE SUMMER
February 28, 2009
2009's first MUST SEE MOVIE! Chris Klein set the NEW STANDARD in action movies! Highly recommend and must see over and over and over agian. Tell your friends, family, and co workers. NASH OUT!
February 28, 2009
I remember when everyone was dissing Kristin Kreuk before this movie came. But, she was actually the person in this movie. Kristin and Duncan make this movie a decent movie. The rest of the actors didn't perform that well. And that's an understatement!!! The actors that places the detectives were awful. They shouldn't have had them as character at all in the movie. Chris Klein was the worst. He's the poison that helped kill this movie. Every scene he was in was a joke.All can say is poor Kristin Kreuk because it's her first movie and she did a good job. Most of her fighting scenes were good.
February 28, 2009
a sloppy, unbalanced, terrible take of the Street Fighter series. I Can Forgive Kirsten Kreuk, Michael Clark Duncan and Moon Bloodgood but everyone else made it fail. 1 star
February 28, 2009
Ok movie. Some part drag too long. The fight scenes are a tad bit too short. None of them show any of their "game" special moves. Since when Vega is Asian instead of Spanish. Isnt Gen suppose to be "old"?! I would assume he look like the Sensi from Kill Bill. Good effort for Kristin. She must train hard for this movie.
February 28, 2009
I don't understand all the people on various sites that I have seen bash this new SF. Yeh I will agree 100% that Chris Klien's performace made it extremely evident why his career has tanked so badly ! ! ! However looking past that lets break it down. . . THIS IS AN ACTION MOVIE !!! Plain and simple, It has fighting , explosions, a passable plot and decent acting. I just discribed 99% of action movies. Come on people, are you serious ? ? ? Take this for what it is ! Its campy yes but Kristen Kruek did a commendable job ( especially for her first Big screen Lead role) , Michael Clark Duncan was entertaining as always, I like this adaptation's Bison and even Lu Kang was suprisingly not as