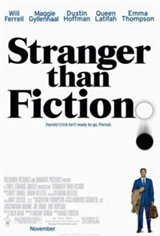 4.1/5
Based on 19524 votes and 61 reviews.
Please rate between 1 to 5 stars
Showing 1-10 of 61 reviews
June 6, 2007
Surprisingly Awesome
May 2, 2007
A very good film. A great performance by Will Ferell. So different than the Will Ferell we know in movies like Anchorman and Blades of Glory. Emma Thompson was very funny, Queen Latifeh was good, Dustin Hoffman was very good, an excellent script by Zach Helm and great directing by Marc Forester
March 19, 2007
good movie - works better as a renter than on the big screen. Ferrell and Hoffman are great. It`s funny a times, really dramatic the next. Overall, not-a-bad flick.
March 5, 2007
Slow, Boring.. DVD material
January 18, 2007
it was good
January 16, 2007
Very nice story, amusing - and it has a nice sentiment about it - where the main character Will really learns things about himself all because of the writer on what she was planning. I highly reccommend this movie!
January 11, 2007
I loved this movie. It was so creative and I loved how it was tied up in the end. I was very impressed with Will Ferrel. I thought he was great. I loved how the executed the plot line so that you knew what would happen maybe but didn`t know how. And the last line just amazed me.
December 19, 2006
Was a tad disappinted. I thought Ferrell was actually quite good and liked the relationship between him and Gyllenhaal, and the premise was amusing, but in the end it felt like a weak Charlie Kaufman script. The point of the film (live your life) is well meaning, but Kaufman probably would have put more into it, making it resonate more. The movie was relying more on the premise than any of the feelings in it. I did enjoy it, but I don`t think I`ll be visiting it again.
December 14, 2006
It was an ok movie... nothing crazy but not horrible either! It was a little slow... something I would rather rent and watch it at home!