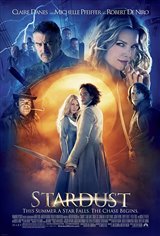 3.73/5
Based on 1393 votes and 77 reviews.
Please rate between 1 to 5 stars
Showing 1-10 of 77 reviews
July 3, 2009
This movie has instantly become one of my favourites. Its a great combination of action and fantasy and is topped off by a whole cast of great actors, especially those British actors you normally only get to see on TV.
July 13, 2008
Good movie, good effects and all around a good fantasy movie! Very enjoyable!
January 20, 2008
horrible direction, despite decent performances, great scenery, and special effects. Do not waste your time
January 18, 2008
I loved it! Very entertaining
December 2, 2007
the best movie ever what about the love
November 24, 2007
The Movie Maniac sez... I SAW IT TWICE! It's about time!!! They finally brought out a fantasy film for the young and old. Although I would consider this and older crowd type film as it reminds me of the Princess Bride. Funny scenes amazing FX. Guys take your ladies out to see this movie. You will like it as much as she does. The Movie Maniac
November 17, 2007
A must see again and again!
October 21, 2007
good acting, interesting story; seemed like a kids-style fantasy film for adults; wouldn't take anyone under 16 to see it; DeNiro rules in it:)
October 21, 2007
It was a great movie!! love the sotry line and actors great performance!!~ certainly wanna watch it again!
October 19, 2007
Great Movie. Funny, original, surprisingly creative, and quite entertaining. Roles were well played out and believeable. Husband and I both enjoyed it immensley, we couldnt stop chuckling throughout the movie. If you dont like fantasy movies, you wont want to see this one for $12 (go to Rainbow) but if you do, then I cant imagine anyone walking out of the theatre unhappy.