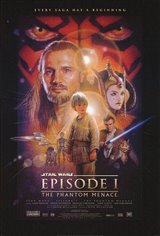 4.19/5
Based on 845 votes and 28 reviews.
Please rate between 1 to 5 stars
Showing 1-10 of 28 reviews
December 28, 2005
lightsaber duel was incredable, ray park is phenominal.
July 15, 2005
i really find it very interesting......neil2 "trailblazer"
July 5, 2005
you appreciate this movie after u`ve seen episodes 2 and 3...well done
June 16, 2005
Cant wait when Lucas goes back to finishing this one like he did for the older movies. Kidding its alright shoulda been better.
May 13, 2005
Great story line. Bad acting.
May 12, 2005
i think you movie could be better if you still using those dishes and old effects. you cann`t use the same staff, but yuo are using too many eefectes whit you new movies . you cuold be better; less computer effects and more human think, like your first movies in the 70` you really did something special and massing, you did history. Now my dougther dose betters pictures in computer. use your main and imagination. well, computers are not better then you and you showing something different. are they ?
May 5, 2005
This movie was okay visually, but the plot really sucked. I think Lucas can do a way better job. Episode III looks wicked!
December 15, 2004
LIKE EPISODE 6 IT SUFFERED FROM WEAK ACTION SEQUENCES INVOLVING OVER SUGAR COATED VIOLENCE AND IDIODIC VILLAINS (i.e THE BATTLE DROIDS AND NUTE GUNRAY).BUT OVERALL IT`S STILL A GOOD MOVIE!
December 9, 2004
GOOD BUT THE PLOT AND THE ACTION SEQUENCES WERE A LITTLE WEAK. I HAVE NOTHING AGAINST JAR JAR.
November 29, 2004
the BEST movie made in all of the planet- no the galaxie. t kicked ***