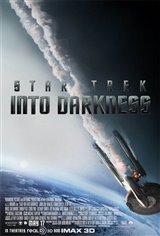 4.22/5
Based on 300 votes and 107 reviews.
Please rate between 1 to 5 stars
Showing 41-50 of 107 reviews
May 27, 2013
Fantastic!! Great follow-up to the reintroduction of Kirk and Spock. Can't wait to see where it goes next!
May 27, 2013
Fantastic! well done movie! don't listen to all the hater nerds that are over analyzing every little spec about something that was done in the past. Get over yourself and get with the program. These haters are beyond Trek nerds that have nothing else to do but pick apart a great film. Hold your stuffed animal tight night while you cry yourself to sleep JJ did a great job in creating this film, as well as the cast! Good job!
May 27, 2013
I agree with the Epic below me...
May 27, 2013
I loved it. Great new cast with years ahead of them. Nice homage to the original series. I can't wait to see the young nurse Chapel.
May 27, 2013
great acting, good story, good action scenes all in all very entertaining. I'd go see it again.
May 26, 2013
Unfortunately just a lot of preposterous things happen in this movie. I found it hard to ignore all of them. The movie is fun, and I like the actors. The story is old and lame, they had a chance to do something really new, and they decided to play it safe. Over all I am disappointed but enjoyed it despite that.
May 26, 2013
great fn movie. best of the year so far. go and see it now.
May 26, 2013
I just watched wrath of khan and then watched this move after reading some reviews here. People who are complaining about how they copied some that movie with crappy graphics need to get over themselves. These complainers would not be able to come up with anything comparable or creative themselves, just being harsh critics who are just negative in life. I think Khan was played very well in this movie by Benedict, have you watched Sherlock the tv series? Benedict is great in that as well. Pine and the rest did great as well no cheese ball acting, they were really into their roles and understood their responsibilities in this, Zach also did a great job with Spock's role..all in all a worthy
May 26, 2013
Was never into trek movies, always found them lackluster efforts. Especially the movies like Nemesis, but I think this new crew is exciting and they connect like a family. Good Mix of action, drama and some comedy. This movie this not disappoint