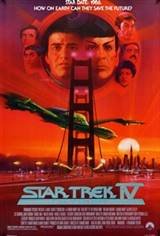 Star Trek IV: The Voyage Home
6 Reviews
|
Write a Review
In Theaters: November 26, 1986
2.45/5
Based on 31 votes and 6 reviews.
6.90%

13.79%

6.90%

62.07%

10.34%
Please rate between 1 to 5 stars
Showing 1-6 of 6 reviews
August 23, 2006
TERRIBLE WAY TO END THE STORY ARK STARTED IN WRATH OF KHAN.
May 19, 2006
Not a sci-fi succes story but a good, efficient, entertaining movie. It`s a sci-fi movie that non-sci-fi-non-treckers viewers can relate to (if you want to see the worst, rent #5, don`t buy it).
December 9, 2004
THE WORST!
November 27, 2004
DESPITE THAT IT`S DEDICATED TO THE CREW OF THE SPACE SHUTTLE CHALLANGER I HAVE TO SAY THAT THIS IS BY FAR THE WORST STAR TREK MOVIE EVER MADE THE STORY WAS EXTREMELY WEAK : A MYSTERIOUS ALIEN OBJECT COMES TO EARTH CAUSING POWER SHORTAGES ACROSS THE PLANET AND VAPOURIZING OCEANS. KIRKAND THE OTHERS DISCOVER THAT THE PROBE IS COMMUNICATING ON THE SAME FREQUENCY AS THE BLUE WHALE WHICH IS EXTINCT IN THEIR TIME ERA SO THEY TRAVEL BACK IN TIME TO THE 1980s TO RESCUE A FEW FROM EXTINCTION . BORING . THIS ONE IS ABSOLUTELY NOT AS GOOD AS 2 & 3
November 19, 2004
WHAT AN ABISMAL STORY!
November 13, 2004
The weakest of all the STAR TREK movies. It has a terrible story from beginnig to end and the weak humor did not amuse me.Definitely not as good as 2&3.