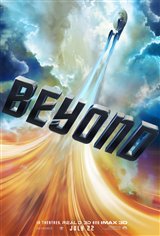 3.92/5
Based on 306 votes and 75 reviews.
Please rate between 1 to 5 stars
Showing 1-10 of 75 reviews
April 28, 2018
It tries to be Star Wars, sometimes it tries to be Guardians of the Galaxy... and it´s not the first nor the second and it is quite soulless.
March 29, 2017
Amazing from start to finish. Need to see it for your self and ignore the "New Trek Haters" They have no idea what they're talking about.
March 8, 2017
very good scifi, one of the best treks
January 31, 2017
The reboot is a fail. I felt like I was watching some over-inflated special effects extravaganza from the 1930s, a trite and unconvincing one - suspend this, my disbelief is quite intact. I was disgusted at the motorcycle in space scene, and I've set myself up in more convincing 'stand in cut-outs' for photo-ops (think Niagara Falls, but worse). Kill the Kelvin timeline. Please. This was a grooming piece for Pine to take over Wolverine. Watch it if you want to see what sucks about modern sci-fi - no originality, at all. I shake my head. Wasted franchise.
November 30, 2016
The new reboot movies have all been bad in my opinion. They are action movies using Star Trek props. They are not Star Trek movies at all. I think the people producing these movies just don't get Star Trek.
November 17, 2016
I LOVE Star Trek, especially these new movies. But, I was not really impressed with this script and/or storyline. There are some very comical scenes, which I did enjoy. Usually the ship itself, The Enterprise, is almost a character all its own, but not in this movie, which is possibly the reason that this movie did not do it for me. In addition, the main characters are separated for a lot of the movie, which I did not like at all. Given what happened to the Enterprise herself, very early in the movie, it seemed to set the tone of separation and the movie, therefore, did not hold to the usual strength the ship and crew derive together.
October 12, 2016
Faithful to the original series Everyone has their moment but Anton Yelchin's performances will be missed and not just for Star Trek.
September 20, 2016
Loved it. Was so involved in the story that I was tensed up to the point of a stiff neck. Great story and great actors playing those parts. Bones is amazing.
September 5, 2016
Dismal failure. Someone keeps trying to tell the story. It's done. It's finished. It's completely gone.
August 24, 2016
Good story. Good movie. 2 thumbs up!