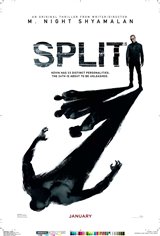 Split
| 70 Reviews
Write a Review
In Theaters: January 20, 2017
On DVD/Blu-ray: April 18, 2017
PG-13 | Thriller | 1h 57m
3.44/5
Based on 228 votes and 70 reviews.
Please rate between 1 to 5 stars
Showing 1-10 of 70 reviews
February 5, 2020
Honestly, I don´t get how people could get bored. I think the cultural warholism with all that generic Marvel crap with CGI mess influenced human brain to the point people lost ability to watch original movies with interesting point and great performances from the actors.
March 25, 2018
Aside from the good acting this movie is sub par the story is boring and feels incomplete .
June 15, 2017
There was not a moment of boredom in this movie. I enjoyed it from start to finish.
May 6, 2017
Very suspenseful, great plot, surprise ending made it worth it
April 23, 2017
great movie, lots of suspense, well worth the watch
March 23, 2017
I was so tired and about to fall asleep before the movie even started. I stayed up till the very end. M. Night is back! I like the very last twist which ties something else together! McAvoy needs an award nod big time. My one big issue is I wish we saw ALL the other personalities, not just a handful. Mind you, there were still a lot.
March 19, 2017
James McAvoy is AMAZING in this movie. His ability to switch between "characters", or more like personalities, is like non-other acting I've ever seen. You have to see this movie. It's officially my favorite movie. If you watch it a 2nd time, you will notice even more details. Watch it!
March 2, 2017
I believe that this is a real psychological thriller and filled with suspense!Acting was good. I think it will do well.
February 28, 2017
it was a good thriller and it kept your mind working
February 26, 2017
Dreadfully slow. Nobody in the theater seemed to like it. A damn shame.