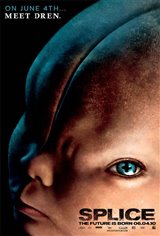 Splice
138 Reviews
|
Write a Review
In Theaters: June 4, 2010
3.18/5
Based on 468 votes and 138 reviews.
31.93%

17.23%

12.18%

14.29%

24.37%
Please rate between 1 to 5 stars
Showing 1-10 of 138 reviews
January 10, 2017
Very good movie from Canadian genre filmmaker Vincenzo Natali. Good special effects, especially the way they painted a smile on the face of Sarah Polley, who has never actually smiled in real life.
August 5, 2012
a really good twisted horror flick, that will keep you on the edge of your seat !
January 5, 2011
Finally saw this tonight... I felt sick afterwards.. this movie was messed up !!
January 4, 2011
So bad it's funny.
December 1, 2010
Awful.
November 11, 2010
the first 20 or so minutes were good and then it quickly goes downhill. the female protagonist was just a god aweful actor, especially considering shes some genius scientist who becomes next to mentally handicaped after about 15 minutes into the film
October 19, 2010
This movie is horrible. I'm embarrased that Canadians were invovled in the making of the film!!
October 15, 2010
garbage - One word describes this movie: dumb
October 13, 2010
the ending was MESSED UP
August 26, 2010
what garbge!!!! surprised Polley put herself in this movie...adrian brody needs a new agent...terrible movie