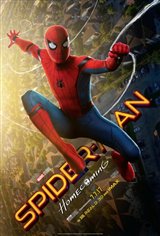 Spider-Man: Homecoming
| 367 Reviews
Write a Review
In Theaters: July 7, 2017
On DVD/Blu-ray: October 17, 2017
2.91/5
Based on 1514 votes and 367 reviews.
Please rate between 1 to 5 stars
Showing 1-10 of 367 reviews
December 17, 2019
tom Holland was not good as spider man 1 star
December 8, 2019
movie was bad Zendaya was a bad mj and tom Holland was not a good spiderman . his character was weird and ending was not that great.
December 8, 2019
Not a good spider man and dont think tom holland was that great as spiderman i think jake johnson was beter as spiderman in spider man into the spiderverse.
January 24, 2018
This movie was awesomely amazing and hilarious! I loved it so much!
December 28, 2017
By far the worst Spider-Man movie.
December 10, 2017
This movie was very good. I thought this movie sucked from watching the trailer. It proved me wrong. The movie was so funny. If the producers did a sequel to the movie in a few years then it will be great too. The cast was great.
October 28, 2017
It was very good better then I expected lots of action and a good story line very well done
October 26, 2017
Totally bored until the last 20-30 minutes. Probably because I've seen the 'dumb teen screwing up to impress people' bit a billion times.
October 23, 2017
Enjoyed it more than the previous Spider-man movie as the ending was better and this film was more funny, The Vulture villain here was very interesting rather than having some gigantic monster creature to fight as in too many super hero films. Liked Robert Downey Jr. here as well as Michael Keaton and Marisa Tomei . Tom Holland makes a good spider-man although perhaps too young for a super hero. Hope he doesn't fight Bat-man in some future movie.