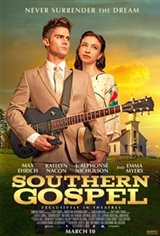 5/5
Based on 18 votes and 8 reviews.
Please rate between 1 to 5 stars
Showing 1-8 of 8 reviews
March 30, 2023
This movie surprised me by with its honesty. I didn't feel like I was being sold something but I got to watch the journey of a preacher and I cared. It was a really powerful independent film.
March 17, 2023
It doesn't matter where you are in your journey or the life events that brought you to this place - there is a relatable character that will touch your heart. Hope, strength, love, and grace are not celebrated enough today. This movie does it in a way that will have you elevating your own dreams. I hope everyone reading this goes to see it!
March 15, 2023
I stumbled upon this movie quite by accident. It turned out to be a really good story and the message was even better. If you enjoy Faith-based films, I think that you will enjoy this one. There are some highs and lows during the course of the movie, but it ends on a high and I walked out of the theater exhilarated and feeling good. Some really nice songs as well.
March 15, 2023
Substantial 2nd chances of hope, forgiveness & love faith film based on a true story. Sometimes pretty & others gritty, but not with dirty language. Nor gratuitous sex & violence. It conveys some bad situations in a tactful & tasteful way. Not like some TV & movies that are graphic. Maybe a 9 yr + kid ok with it. Good acting makes the characters believable. The storyline made me think sort of The prodigal son. I think 'Jesus Revolution ' was even better ! God loves you and it's not based on the bad things that have happened to you or you may have done. Jesus forgives a repentant heart no matter what and gives you his hope and love and strength to continue on in a second chance. And that enables you to love help and forgive others. 😀
March 13, 2023
Very inspiring. Well written and the acting is pretty good too. If you like movie that are inspiring and positive with the gospel message then you will enjoy this film.
March 13, 2023
What a great joy was this film from it's storyline, to amazing music to it's power in blessings brought by God all mighty! It was wonderful to see a great film like this.
March 10, 2023
So realistic. Loved it's a true story
February 22, 2023
The storyline is compelling. The acting/singing is so genuine.