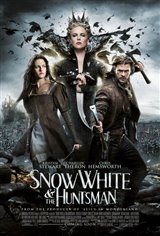 3.84/5
Based on 594 votes and 179 reviews.
Please rate between 1 to 5 stars
Showing 1-10 of 179 reviews
November 1, 2012
Kristen Stewart is AMAZING in this movie which is sure to become a classic! Just imagine how incredible the Harry films COULD have been if Kristen had been cast instead of Emma!
November 1, 2012
Kristen Stewart ruins the movie with her mediocre performance. If they cast a different lead it might have been a decent movie.
September 23, 2012
it sounded like it would be amazing, but it wasn't. only ok.
September 22, 2012
the worst thing about this movie is how much potential it had and fell short of. the visuals are stunning, and the seamless integration of big name actors onto tiny dwarf bodies was particularly well done-but kristen stewart is her usual cardboard self and chris hemsworth's character, despite being in the title, was essentially useless. charlize theron was the only interesting character of the film.
September 20, 2012
charlize theron is amazing ,without her this movie is a flop.who made kristen steward an actress?
September 18, 2012
i was very disappointed, i kept waiting for the action and the movie ended.......and it was 7 years between when she was dead to when she was awakened again....so sad.....
September 16, 2012
most boring movie ever, bad acting, predictable plot, uninspiring dialogue
September 9, 2012
i loved this movie, it was awesome. i enjoyed everything it was funny, it was sad, and i liked how everything turned out for the characters in the end. cant wait till part 2.
September 8, 2012
kristen stewart may finally take home an oscar for her fine work here.
September 8, 2012
good take on the fairy tale.