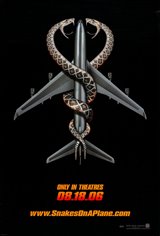 Snakes on a Plane
181 Reviews
|
Write a Review
In Theaters: August 18, 2006
4.05/5
Based on 10385 votes and 181 reviews.
62.40%

13.24%

6.68%

2.38%

15.30%
Please rate between 1 to 5 stars
Showing 31-40 of 181 reviews
August 31, 2006
Snakes on a Plane will be a classic, Samuel Jackson knew that, it weill be on late night television for years.
August 30, 2006
This movie was really entertaining. You were lauging, shrieking, whincing and on the edge of your seat. Great Fun!!
August 30, 2006
SAVE YOUR MONEY GO SEE SOMETHING ELSE.
August 30, 2006
The movie contained enough action to keep me on the edge of my seat for the whole thing, though contained comedic release which made me laugh. The snakes did not look too fake, which made it good.
August 30, 2006
GOOD
August 30, 2006
I loved this movie, and so did the crowd! This movie was filled with action, suspence, horror, the best movie i`ve seen in a while! The crowd was absolutely awesome and get ready to have the funnest time you`ll every have in a while too!
August 30, 2006
Absolutely brilliant. S.o.a.p. sets the benchmark for new horror.
August 28, 2006
horrifying, but dragged on to long, thumbs down
August 28, 2006
Predictable,goofy,fun, good tension release (?) great for snake lovers, implausible.........but loved it anyway
August 28, 2006
Like a previous reviewer said..."Best bad movie ever". Period. I am not sure what people who hated it were expecting. It is snakes, on a plane, and they kill people. It is HILARIOUS! Bask in the "B" movie glory!