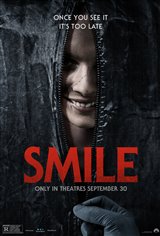 Smile
| 18 Reviews
Write a Review
In Theaters: September 30, 2022
On DVD/Blu-ray: December 13, 2022
R | Horror | 1h 55m
3.47/5
Based on 38 votes and 18 reviews.
Please rate between 1 to 5 stars
Showing 1-10 of 18 reviews
November 19, 2022
Liked the movie Was scary The ending is good. I see opportunity for .." to be continued "
November 2, 2022
lots of jump scares...
October 25, 2022
The general plot of the movie is honestly not that great, and the ending is simply confusing, i think it could've been much better, but they just didn't make it roll. It was all just a confusing mess just like this review.
October 23, 2022
Really depends on what you watch a movie for, and why. More than enough jump scares, but not the point of the film. If you try to understand what a movie is trying to say, the confusion is part of the point, and will leave you with something worth thinking about and discussing with friends and loved ones after watching. Looking forward to more from Parker Finn.
October 21, 2022
The movie is not perfect but it is enjoyable. It will make you wince, flinch, and also laugh. It is original and I will not spoil it much but it is worth seeing just for some original concepts.
October 21, 2022
I saw it at the Roxy theater and they stopped selling tickets bc hmm I WONDER WHY??? When I checked in they put me in my own room and it was pitch black, nobody in the room, it was so loud even louder than the other movies. And omg it scared me a lot and no horror movie has scared me so much to the point that i ran out having a panic attack and crying
October 21, 2022
I didn't like it 😕
October 20, 2022
the scary parts were only for a second or two and not long enough to scare anyone. don't waste your money on this flick
October 14, 2022
If you want to be scared - this movie is non-stop. I kept waiting for a ten of fifteen minute break of boring exposition, but no - it's constand scares and it's so scary because it's other PEOPLE - not a monster, other people close to you. And the smiles are very creepy.
October 13, 2022
I loved this movie, it was both enjoyable and traumatizing. If you like scary movies I highly recommend you go see this one.